Genius loci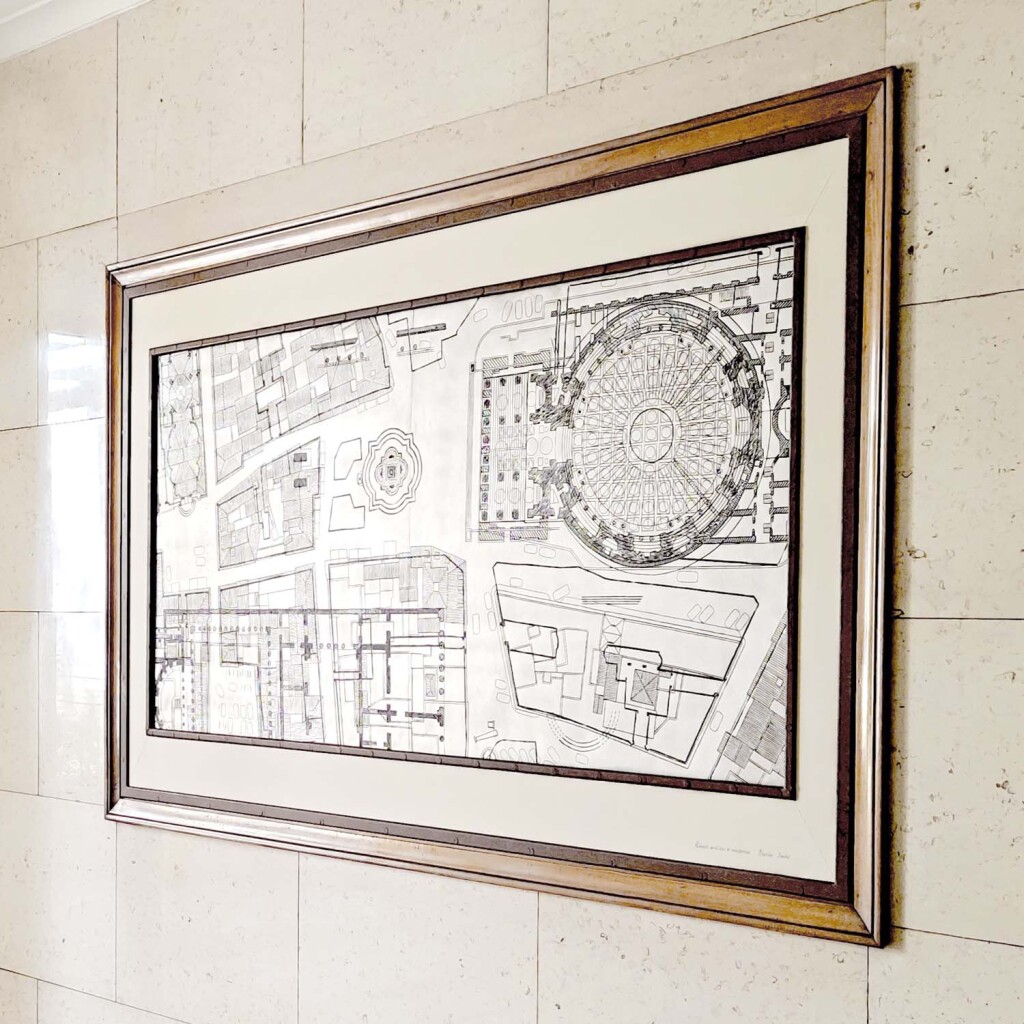 0129310 ©DarioImbò  2021  90x180cm (linocut)
.
.
Il progetto ha come tema la sovrapposizione urbana come comprensione della complessa e mutevole identità  di un luogo nella Storia. Le traccie di una urbanistica e vita sociale di una città sono nascoste dietro strati di intonaco o sedimentazioni che hanno semplicemente ricoperto il passato.
Ho deciso di cominciare questa interessante e impegnativa ricerca concentrandomi su aree centrali delle due città che ad oggi conosco meglio, Roma e Parigi.
Ho raccolto le informazioni storiche e archeologiche disponibili sulla città consultando biblioteche, archivi storici, musei fino ad ottenere mappe, planimetrie, fotografie aeree, documenti storici e altre informazioni pertinenti.
Ho pianificato di rappresentare la città nell'epoca romana utilizzando planimetrie archeologiche e fotografie aeree per mostrare la disposizione delle strade, dei templi, dei fori e delle abitazioni, che testimoniano una specifica vita sociale quotidiana. Ho successivamente predisposto le planimetrie delle epoche successive, limitandole a due. Nel caso di Roma queste sono quella settecentesca e quella attuale.
La scelta della lineoleografia  è stata naturale perchè la utilizzo spesso sia per l'incisione di matrici per stampe sia per la realizzazione di bassorilievi.
Questa tecnica mi permette di creare i vari livelli di profondità necessari per permettere una lettura comparata ma contemporanea  dei diversi assetti della città in tre diverse epoche.
.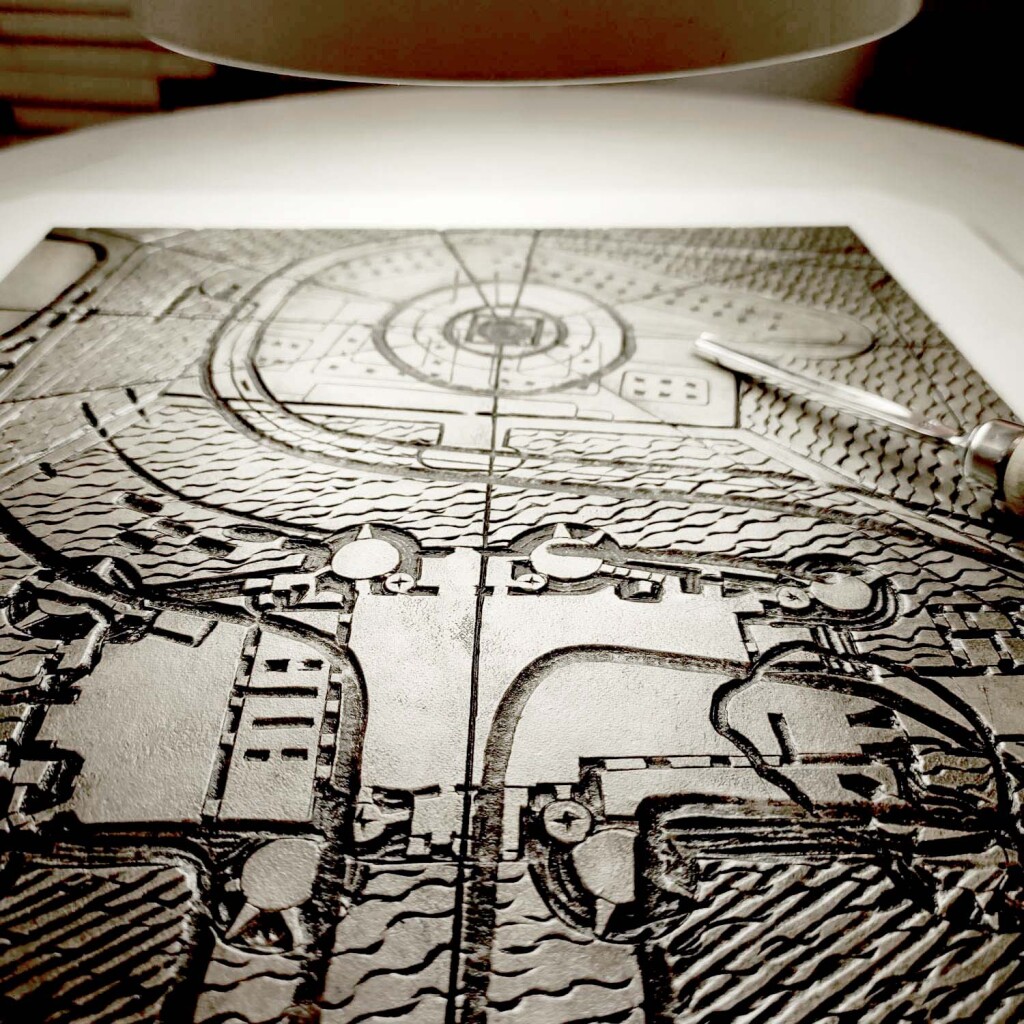 .
Le projet a pour thème la superposition urbaine en tant que compréhension de l'identité complexe et changeante d'un lieu dans l'histoire. Les traces de l'urbanisme et de la vie sociale d'une ville sont cachées derrière des couches de plâtre ou de sédimentation qui ont simplement recouvert le passé.
J'ai décidé de commencer cette recherche intéressante et stimulante en me concentrant sur les quartiers centraux des deux villes que je connais le mieux à ce jour, Rome et Paris.
J'ai rassemblé les informations historiques et archéologiques disponibles sur la ville en consultant des bibliothèques, des archives historiques, des musées jusqu'à ce que j'obtienne des cartes, des plans, des photographies aériennes, des documents historiques et d'autres informations pertinentes.
J'ai prévu de représenter la ville à l'époque romaine en utilisant des plans archéologiques et des photographies aériennes pour montrer la disposition des rues, des temples, des forums et des habitations, qui témoignent d'une vie sociale quotidienne spécifique. J'ai ensuite préparé des plans des périodes ultérieures, en me limitant à deux. Dans le cas de Rome, il s'agit du XVIIIe siècle et de l'époque actuelle.
Le choix de la linéographie s'est imposé naturellement car je l'utilise souvent pour graver des matrices d'estampes et pour réaliser des bas-reliefs.
Cette technique me permet de créer les différents niveaux de profondeur nécessaires à une lecture à la fois comparative et contemporaine des différents tracés de la ville à trois époques différentes.
 .
.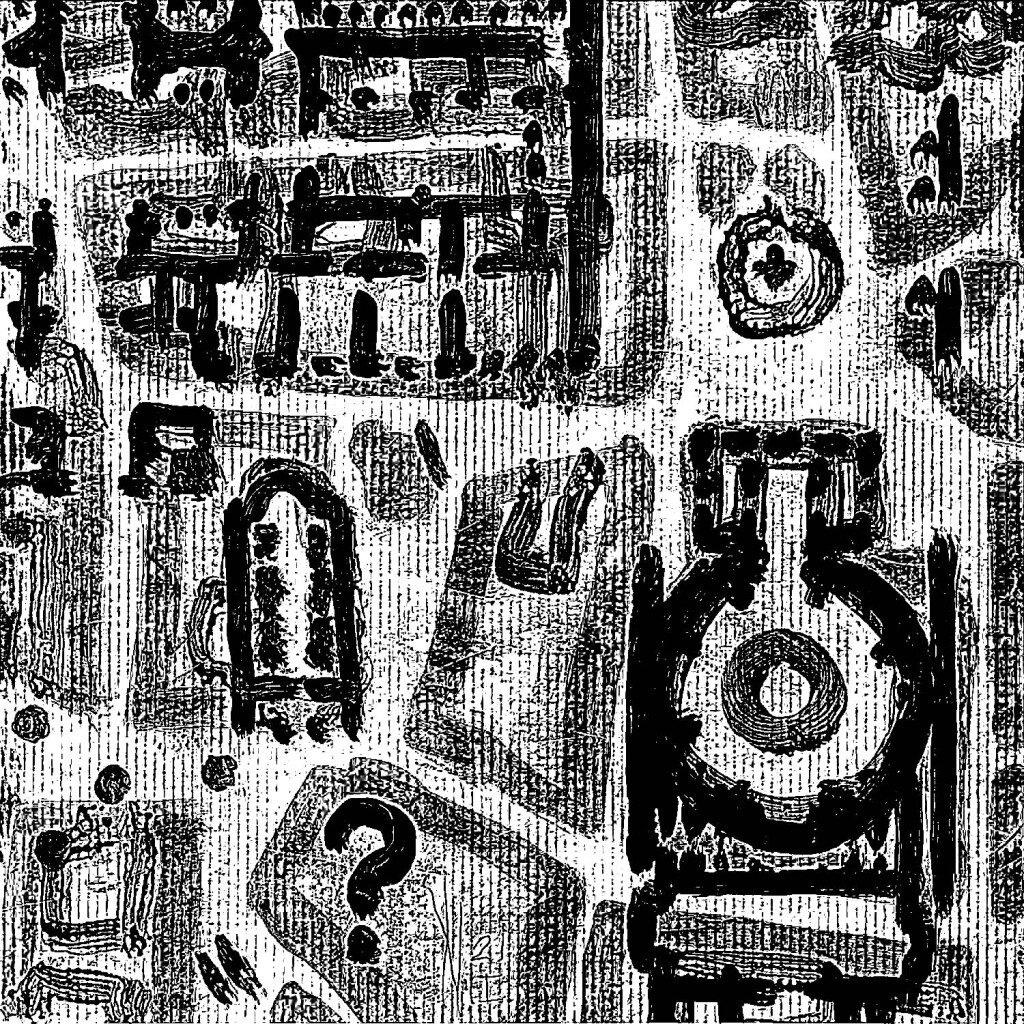 .
The project has as its theme urban overlay as an understanding of the complex and changing identity of a place in History. The traces of a city's urban planning and social life are hidden behind layers of plaster or sedimentation that have simply covered the past.
I decided to begin this interesting and challenging research by focusing on central areas of the two cities I know best to date, Rome and Paris.
I gathered available historical and archaeological information about the city by consulting libraries, historical archives, and museums until I obtained maps, plans, aerial photographs, historical documents, and other relevant information.
I planned to depict the city in Roman times using archaeological floor plans and aerial photographs to show the layout of streets, temples, forums, and dwellings, which testify to a specific daily social life. I subsequently prepared floor plans of the later periods, limiting them to two. In the case of Rome these are the eighteenth-century one and the present one.
The choice of lineoleography was natural because I often use it both for engraving matrixes for prints and for making bas-reliefs.
This technique allows me to create the various levels of depth necessary to allow a comparative but contemporary reading of the different arrangements of the city in three different eras.
.
.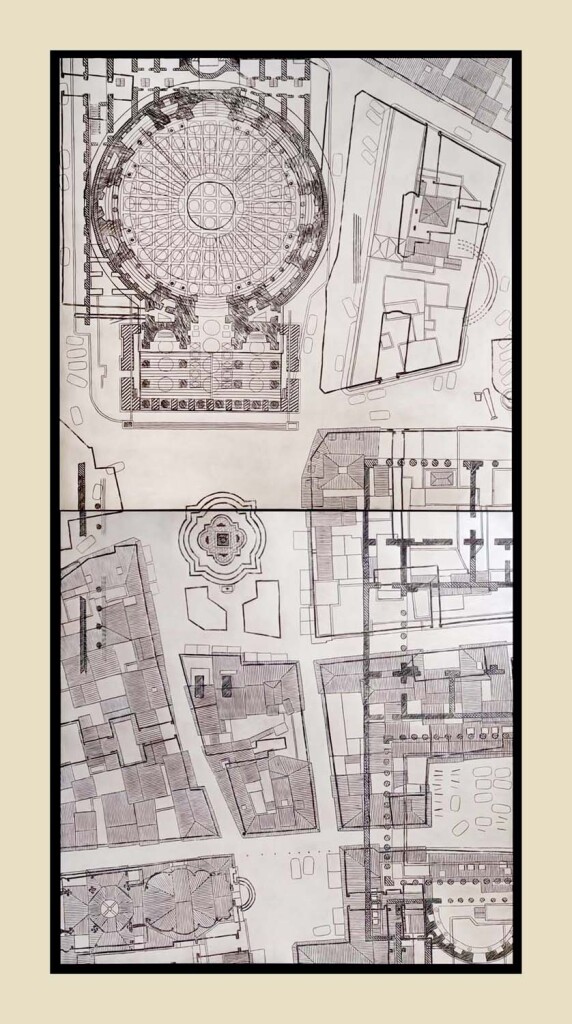 0129310 ©DarioImbò  2021  90x180cm (linocut)
.
.